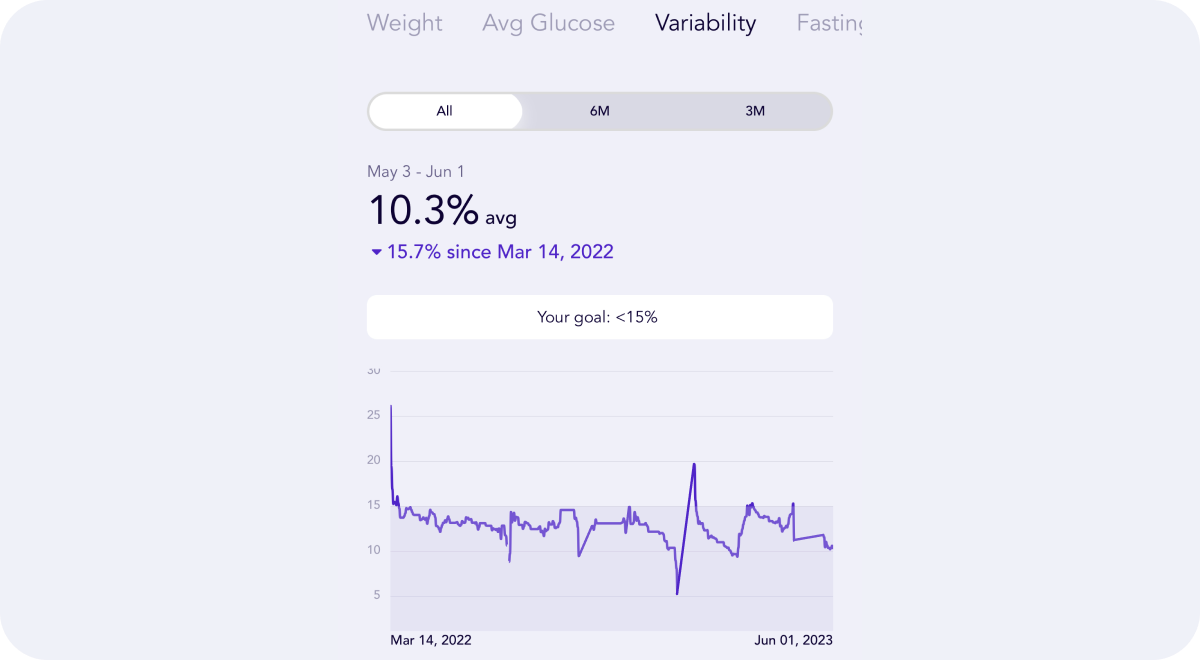 Glycemic variability refers to your spikes and dips in glucose throughout the day, or how much higher or lower your glucose is compared to your average range. High glycemic variability is seen with impaired glucose tolerance (big jumps up and down over a short period of time). Signos defines a glucose "spike" as a quick increase in glucose over 30 mg/dL and out of your optimal weight management range. We may still notify you even when you are in your range when our algorithms detect your glucose seems to be elevating very quickly and we have data on what you ate.
A spike may still occur in range or just out of your range. Aim for steady rises, falls, and rounder curves. Ideally, a less "noisy" graph. When looking at your glucose spikes, your can look at the magnitude of the spike (meaning how big the spike was in units, where the smaller the spike, the better) and how long it takes for the spike to come down to your usual range, aka the area under the curve (the faster you are able to return to your usual range after a spike, the better metabolic health you may be in as insulin is being effectively released from your pancreas to transport glucose to the parts of your body that need it). It's helpful to start to become aware of foods that contribute to spiking glucose more significantly and cause it to stay elevated for over two hours.
It's critical to remember not all spikes are "bad," though it's easy to fall into this kind of thinking trap. Spikes are simply a way your body is communicating with you about the impact of a behavior, like food, movement, sleep, or stress. You can determine how to respond to spikes more effectively as part of your weight management program, as responding to spikes and minimizing them when possible requires the same health behaviors that we know are key to weight management. Exercise, which is a positive health behavior for weight management, can cause glucose spikes, but that certainly doesn't mean you should stop exercising!
Some foods, including complex carbohydrates like sweet potatoes or overnight oats can be part of a nutrient-dense diet. What can help with weight management is to pay close attention to processed foods in particular and what they do to your glucose, as they can contribute to weight gain.
The goal is NOT to avoid all carbs or sugars. Apples, for instance, may contribute to a spike but are packed with vitamins and minerals for a strong, healthy body. You'll notice that a whole fruit spike is generally smaller and drops quickly. So the more you can opt for whole foods compared to processed foods, the more stable your glucose will remain, which supports overall health. We rarely eat foods in complete isolation. It's helpful to think about how to pair foods to reduce glycemic impact. For example, pairing almond butter with an apple for a snack can provide added protein and healthy fat in moderation which dampens the glucose spike that an apple by itself would have.
Our recommendations for healthy adults (people without Type 2 Diabetes):
Fasting: <100 mg/dL (optimal is closer to 70-90 mg/dL)

Before eating: 80-130 mg/dL

Two hours after eating: <140 mg/dL
Our recommendations for people with Type 2 Diabetes per American Diabetes Association Guidelines:
Before eating: 80-130 mg/dL

Two hours after eating: <180 mg/dL (but aiming for lower is better for improving diabetes)
For more information, check out this blog post.