When is a finger stick calibration helpful?
In general, the Signos system is designed to work properly without calibrations. Your body responds slightly differently to each sensor. This means you can have sensors baseline at different levels, as one may baseline at 85 and the next one could baseline at 95. It is best to look at the relative spikes to food, stress, sleep, and exercise versus the absolute numbers.
However, finger stick calibrations can be helpful if the system is improperly syncing during warm-up. A finger stick calibration may also be helpful if the glucose number you are seeing seems significantly different than it should be.
The 20/20 Rule of a CGM
The Dexcom G6 has a MARD (error rate) of 9% and the data follows the %20/20 Rule. For example, if your glucose meter reading is 100 mg/dL, your G6 reading is a close match if it's between 80 and 120 mg/dL. Dexcom calls it the 20 Rule. The Dexcom G6 reading should be within:
20% of the meter value when the meter value is 80 mg/dL or higher

20 mg/dL of the meter value when the meter value is under 80 mg/dL
The CGM is measuring interstitial fluid, which is the fluid that surrounds the cells of your tissue under your skin, while the glucometer is measuring blood glucose. It is important to know that the Dexcom G6 readings can lag behind blood glucose by up to 15 minutes. This is because glucose moves from your blood vessels and capillaries first and then into your interstitial fluid.
When to Calibrate
If you are comparing the readings between a glucometer and a CGM, please only do so when your glucose levels are stable. This would be either first thing in the morning or 2-3 hours after a meal or exercise. To calibrate your glucose levels within Signos, follow the steps below:
Two app users (Signos, and Dexcom app)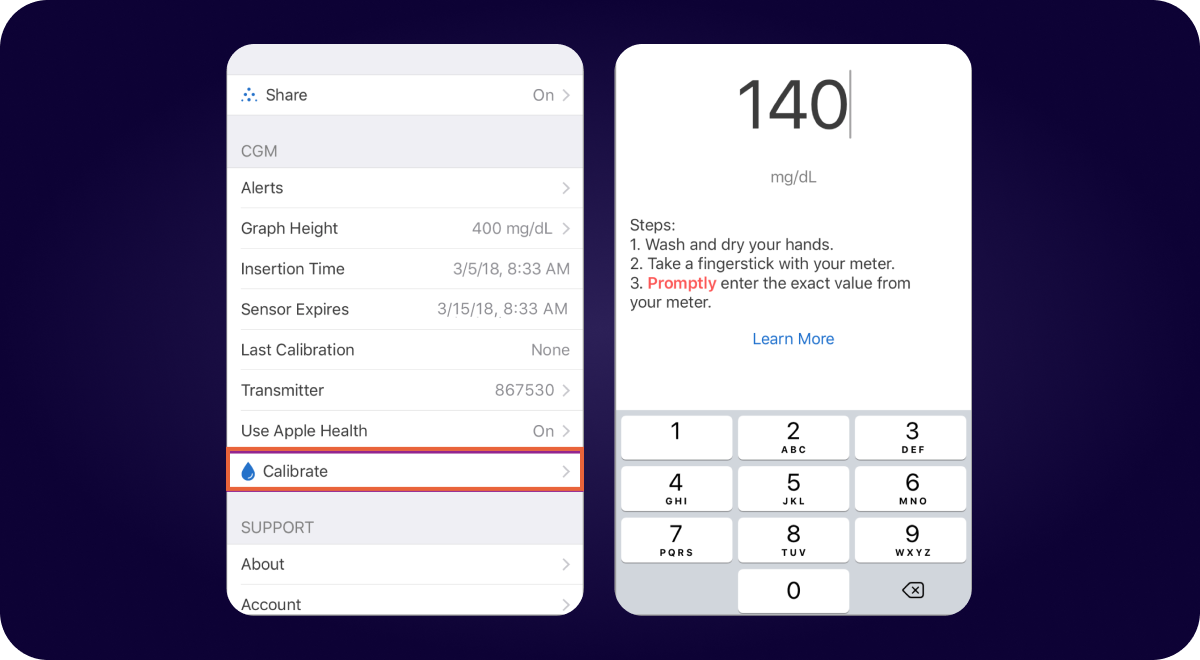 Enter your glucose calibration in the Dexcom app

Your readings will begin to adjust to new calibrations in the next 24 hours
One app users (Signos app only)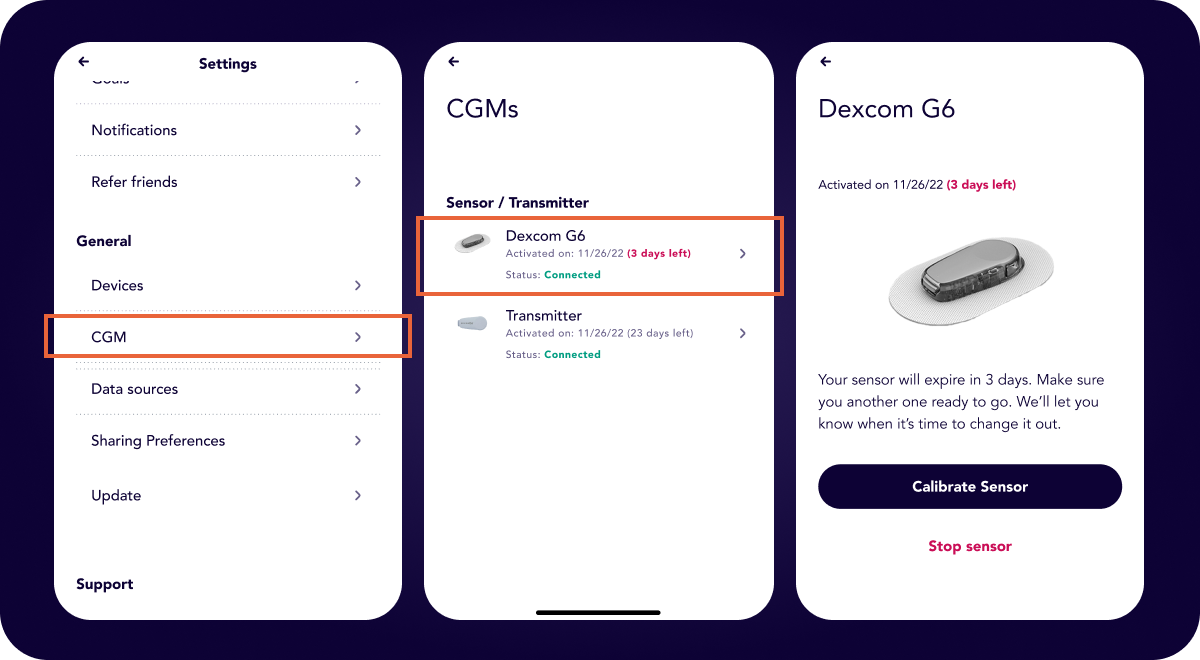 In the Signos app, enter your glucose calibration by going to Settings > CGM > Sensor > Calibrate Sensor

Your readings will begin to adjust to new calibrations in the next 24 hours